This month has been quieter than June for me. I've finally done everything I needed to do and now I can finally concentrate on having fun and ... Learning how to drive. Everyone in France drives with a stick shift so it's a little hard to focus on everything but I'm getting there and someday... I'll drive to conquer the world.
Now let's get back to reality and let's talk about of course my favourite of the month.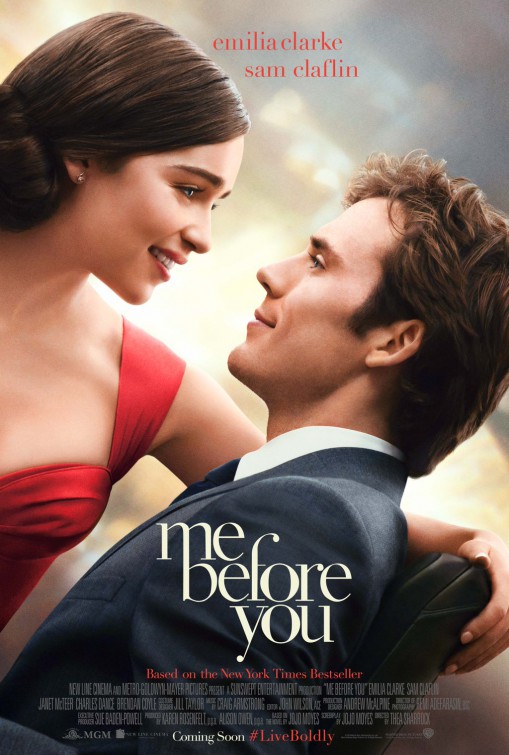 I just had to start with Me Before You. The movie is beautiful. Emilia Clarke and Sam Claflin make a very cute couple. And no it didn't make me cry .... Okay yes it did but just in the end ! Fine, maybe my eyes got a little wet towards the middle too.
They removed some pretty big scenes from the book but we can't have it all right ? Adele can but that's not the point (get it ? Rolling in the deep, anyone ? Come on ! Adele is the queen you have to know the song).
And there is the actor who plays Tywin in the movie, I literally screamed when I saw him. I mean watching Tywin... With feelings. I can assure you, it's weird.
Anyway, great movie. And remember guys, always read the book before watching the movie. That's the rule ! Okay, that's my rule...
Unreal is one of my favourite serie at the moment. It is genius. Basically, it's about a reality TV producer and everything behind the scenes. I'm not a big fan of reality TV and yet I love this show ! There's drama and fights and betrayals and manipulation and... I love it. There are two seasons for now and I hope there will be a lot more !
I know ! Supernatural is on screen for like more than ten years but this month I binge watched the ninth and tenth seasons and I still love it. I grew up with this show, it's my childhood and my teenage years and... I suddenly feel old.
For those who wonder, my favourite is Dean. It's weird because in real life I probably would've gotten along better with Sam - he likes reading after all - but for some reason I have a special spot for Dean in my heart. His voice is everything.
I can't decide between Sam and Cas though.
Let me introduce you to my favourite of my favourites... If that makes sense. I discovered her channel this month and I immediately liked her ! We have similar tastes and she introduced me to my new obsession : Sense8. She's nice and adorable, I'm so glad I found her channel !
That's it for my favourites of July, don't hesitate to tell me what are your favourites of the month !